Our gift certificates and promotions
SOS Adventure
gift certificates
Give or use a
gift certificate
Looking for the perfect gift? We have it here for you! Our gift certificates for adults, teens or kids correspond to the exact amount for the entry to our adventures. There's nothing better than receiving an entry to an escape game as a gift.
You can buy gift certificates online or on-site at our escape game center. You can redeem your gift certificates either at the time of booking on our website or once in store at the time of payment. 
An entire section of our Frequently Asked Questions is dedicated to gift certificates. To learn more, please see our FAQ.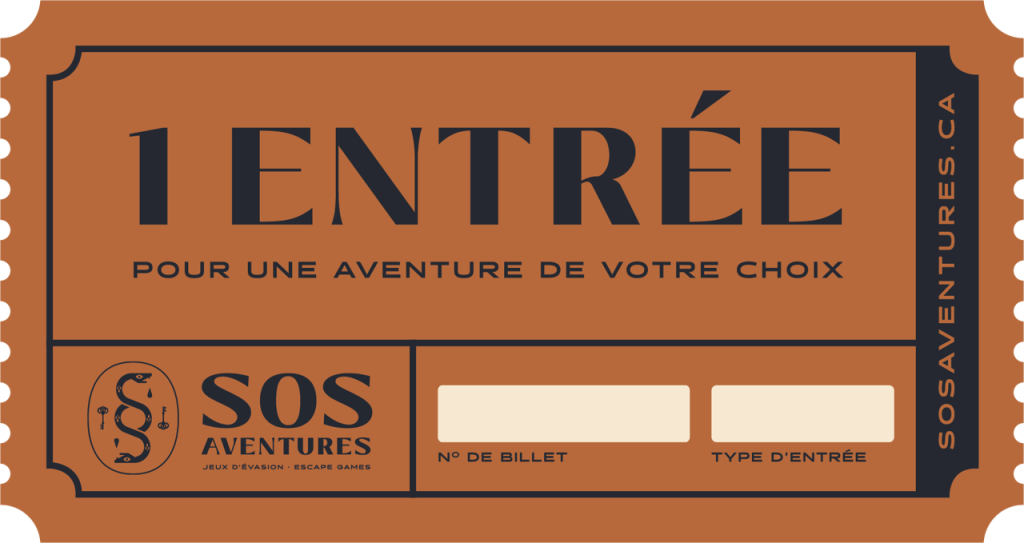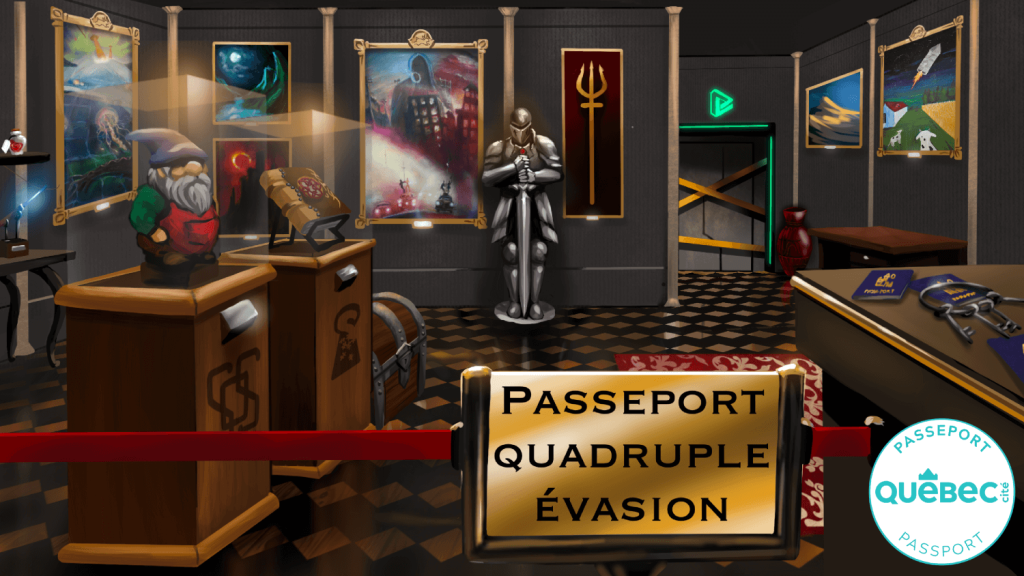 Enjoy an entry and more
to SOS Aventures
PASSEPORT QUADRUPLE ÉVASION – VILLE DE QUÉBEC
4 escape room games for 69,40 $ +tx.
Each passport includes :
*Entries do not have an expiration date. Passport is neither refundable nor redeemable for cash. Once the transaction is completed, you will receive the entries in separate emails.
This Passeport Québec cité is offered to you thanks to the financial support of the Ministère du Tourisme and the investments made by Destination Québec cité.
Play for free the day before, the day of or the day after your birthday. If you are accompanied by three other players and you come within the specified time, the person celebrating a birthday will play for free. The discount is applied at the time of payment upon presentation of a photo id.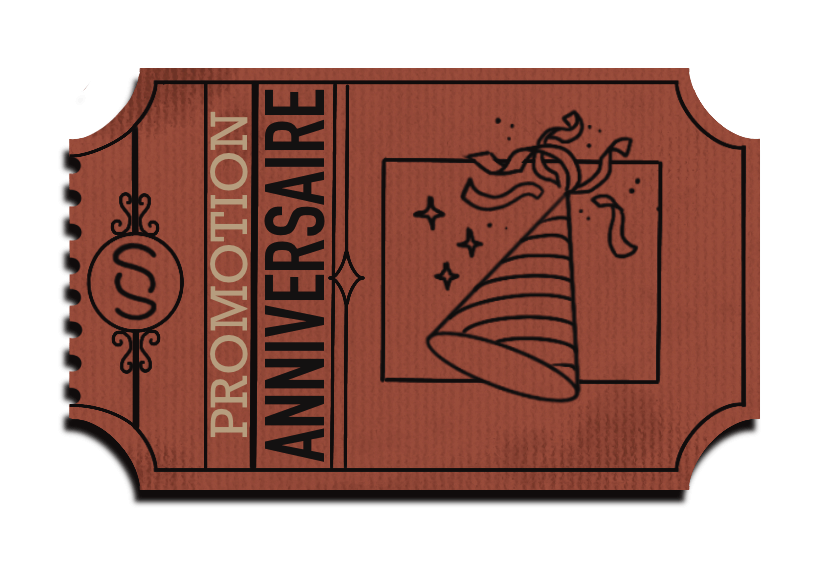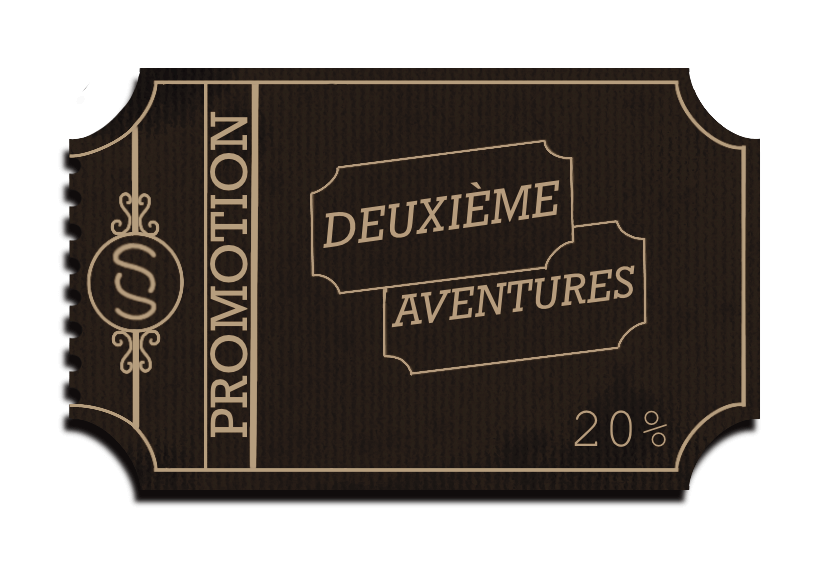 20% discount on our escape games
Are you a real fan of escape challenges? If you do more than one adventure on the same day, we offer you a 20% discount on your additional adventures! This discount applies when paying on-site.
*Cannot be combined with any other promotion.
An Escape room within budget!
Students who play with at least two other people will be able to play at the teen's fee from Monday to Friday excluding holidays. Take advantage of our promotions to save on our escape games!
*Not valid during the winter holiday break and spring break.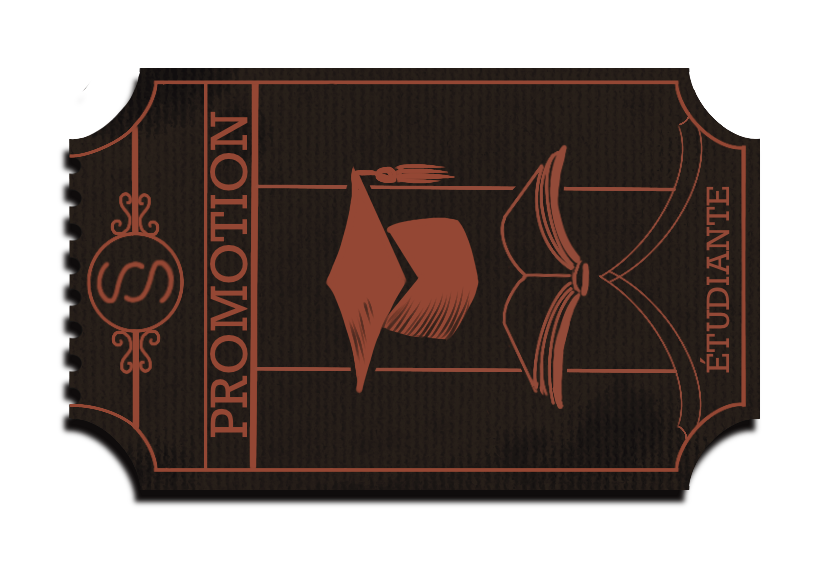 Our escape rooms
get people talking !
Décors impressionnants, énigmes vraiment très cool a résoudre! Nous étions 6 adultes et 1 adolescente et nous avons tous eu vraiment beaucoup de plaisir!! Nous y retournerons c'est certain!
Stéphanie Béland


Saint-Jérôme
Personnel dynamique et drole! Jeux et décors intéressants! À refaire!!!
Matthew Doucet


Saint-Jérôme
Ah! Quelle aventure! Nous avons a-do-ré ! Nous avons déjà regardé notre agenda pour en refaire un autre, vous êtes trop top. Merci pour l'expérience et cette nouvelle découverte qui en deviendra sans doute une passion.
Super expérience! Décor très immersif, personnel passionné et communicatif. Définitivement une activité qui vous donnera l'envie de recommencer tout de suite après une aventure…ce que nous avons fait. Merci à l'équipe !!!
Nous venons de faire le scénario Nain-Possible en famille et quelle magnifique expérience ! Il y en a autant pour les adultes que pour les enfants. Je suis fier de tout ce que mes enfants (7 à 12 ans) ont réussi à faire sans qu'on leur explique. Chapeau à SOS Aventure d'avoir rendu ça possible. On a même dû perdre quelques minutes pour regarder le magnifique décor plein de petits détails.